Bio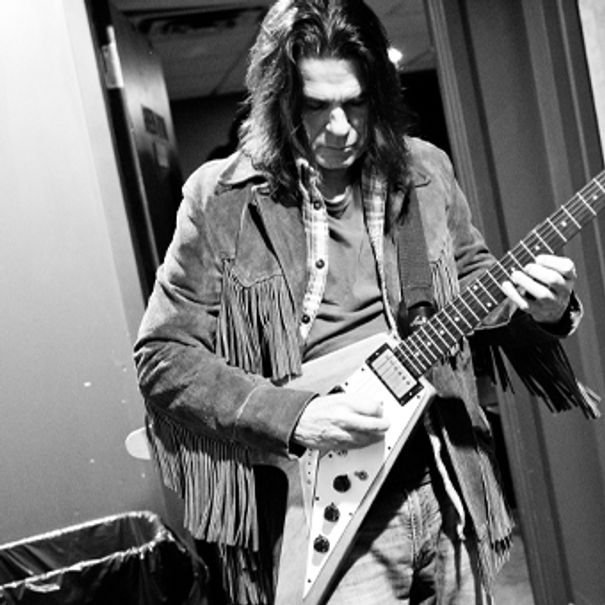 Joe Mass- a guitarist and multi-instrumentalist from Philadelphia.  He is a studio musician for many great acts and recorded his 1st Album 'Soul Shred' in 2010. The last several years Joe has led the group Broken Arrow a Tribute Band to Neil Young in sold-out shows across America 
Joe is truly one of the very best guitar players out there."
                                                                               — Rick Derringer
"Keep doing what your doing we need you."
                                                                               — Carlos Santana
"Great Playing!"
                                                                               — Andy Timmons
Joe Mass, the Philadelphia born guitarist/multi-instrumentalist has a colorful history as one can see through this journey of his musical past.

Going back to the 1980's he was managed by Arthur Mann, co founder of Rykodisc. At this time Arthur suggested Joe travel to N.Y.C. to write songs with another one of Arthur's artists, Jon Bon Jovi at New York City's fabled studio The Power Station, where the pair met and worked with multi platinum record producer and guitarist extraordinaire, Lance Quinn. Joe and Lance went on to form a relationship that led to Joe's first demos. Back in Philadelphia Joe fronted a power trio called Picture This. This band played numerous shows as an open act for such artist as Skid Row, Patty Symth, and Chris Issak among others. Joe also played in a backup band that toured with the stars of early rock and roll. Among these acts were David Ruffin, Eddie Kendricks, The Chiffons, Gary U. S. Bonds, and Philadelphia's own The Dovells. Ushering in the 90's Joe played with The Philadelphia 76ers House Band. This band played at all of The 76ers home games and also traveled to Europe as well. One memorable event was a private affair in Siena Italy featuring players that formerly played and toured with Whitney Houston, Chicago, Musiksoulchild, Ray Charles and others. It was fun and a great musical conversation. Throughout his career Joe as always been for hire as a studio musician and sideman. His 1999 work with David Fox won the John Lennon songwriting competition. Moving on to 2001/2002, Joe played with John Alberti's Latin Jazz group Sabroso. Joe fused Rock and Jazz into the band's sound. Their record went to number 30 on the Latin Jazz charts nationally (F.M.Q.B.) to critical acclaim. Sabroso, also headlined Musikfest in Bethlehem PA as well as other great venues. Also in 2002 Joe served as Grammy Award Artist Michael Sembello's musical director. Michael wrote and sang the number 1 hit Maniac. Joe and Michael also worked on Steve Guttenberg's T.L.A. movie P.S. Your Cat Is Dead. 2005 brought Joe to Range Records as Musical Director in this role Joe had the chance to work with many different artists one being a finalist for American Idol. He also worked on Suzanne Gorman's record which also went to number 6 (FMQB). He then began to travel to Los Angeles California to do the NAMM show for the legendary music company D'Andrea. While in LA, Joe worked on the record Revolution Of The Spirit. Musicians included: Ringo Starr, Gregg Phillinganes, Vinnie Colaiuta, Jimmy Haslip, Nat Watts, and Doug Grigsby among others. He also met and befriended legendary bassist and Rock And Roll Hall Of Fame member Bootsy Collins. This led to much internet and ProTools collaboration between the two. Joe also traveled to Cincinnatti to perform a song from the record "Fallin Soldier's Memorial" a record that Bootsy produced and Joe's song America's Son's is featured along with other tracks by such artists as Charlie Daniels and Buckethead.
In 2003 Joe also was featured in producer Tom Emmi's now fabled series Studio Jams. This episode featured Rod Morganstern and T. Lavitz along with another Philadelphia legend Eric Bazillian.

In 2004 Joe performed at the Philadelphia Folk Festival with Robert Hazard. Joe began a long history in 1993 joining his band as the guitarist. Robert wrote Cindy Lauper's number one hit "Girls Just Wanna Have Fun." At this time he also meet and befriended another Philly legend Essra Mowhawk. Coincidentally, Essa penned Cindy Lauper's smash "Change of Heart." Since then Joe has also performed with Essra many times including headlining the world famous Cain's Ballroom in Tulsa, OK.
2008-2010 have been devoted to writing and recording his own music. Working with producer Brian Bricklin it has finally become a reality. Couple that with a great engineer Kevin Wesley Williams and Soul Shred was born. Joe is also working on a solo acoustic record which features his vocal abilities as well his multi-instrumental talents. Joe also has dabbled in acting through the years appearing in the off Broadway smash Tony and Tina's Wedding and Rocky Horror.
2011 had Joe recording at The Sanctuary in Redbank NJ. It is Jon Bon Jovi's private studio working with producer Obie O'Brian.
Music and Rhythm: The Only Thing In This Life That Is Infinite. . . I Love To Play
- "about Joe Mass- he can play it all, what I mean is if you need funky rhythm or some pedal to the metal he can give you that. But I guess the other part anout Joe is, he is pure musician, which are becoming a rare breed."
                                                                                   — Bootsy Collins"